Experience the master of sound craftsmanship with the flagship Creative Aurvana Platinum headset. Featuring powerful 50mm Neodymium drivers, NFC, Bluetooth® 3.0, Tri-Mode ANC technology and Creative ShareMe™, it is the perfect combination of sound, design and comfort. In addition, it also boasts high-definition audio support with aptX®, AAC, and enhanced voice communication with ClearSpeech™ Engine.
CRAFTED FOR AUDIO PERFECTION

Joining Aurvana's range of illustrious headphones, the Creative Aurvana Platinum is the flagship headset poised to lead the pack in its class. Featuring powerful 50mm Neodymium drivers, Near Field Communication (NFC) and Tri-Mode Active Noise Cancellation (ANC) technologies, it is the perfect combination to boost your listening experience to the next level.
MASTER OF SOUND CRAFTSMANSHIP
Stunning true-to-life performance
Powered by 50mm Neodymium drivers, it is meticulously tuned to deliver stunning bass, balanced with clear vocals and pristine highs. So you'll get stunning audio from orchestral symphonies to cinematic soundtracks.
Besides possessing an arresting and sophisticated design, the Aurvana Platinum also boasts comfortable premium memory-foam ear padding that is well-suited for long hours of extended wear.
LIVE LIFE WIRELESSLY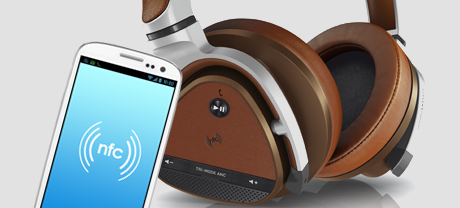 Integrated with Near Field Communication (NFC), you can wirelessly connect to compatible smartphones or tablets easily simply by tapping your smart device on the headset.
* Due to the inherent design of the Aurvana Platinum, it is not compatible to support the full functions and technology of the ZEN Touch 2 and ZEN Style M300.
High-definition playback quality minus the wires
Aurvana Platinum employs high-definition audio support with aptX® and AAC to ensure the best wireless audio performance from a Bluetooth-enabled device.
FastStream* technology allows for low-latency, bi-directional audio streaming and voice communication with the Creative BT-W1 Bluetooth transceiver (sold separately).
*FastStream allows low latency wireless bi-directional audio streaming and voice communication with Creative BT-W1 Bluetooth USB transceiver. HD Voice requires supported smartphones and mobile networks.
Enjoy up to 15 hours of playback and talk time with a single charge.
*without ANC
MANAGE YOUR MUSIC YOUR WAY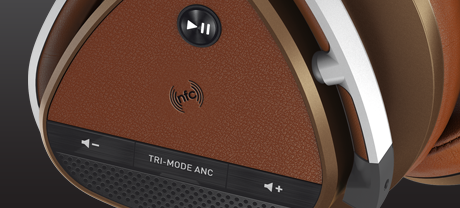 Convenient and easy controls
The convenient on-ear music and call controls allow you to adjust the volume or switch between calls and music with ease.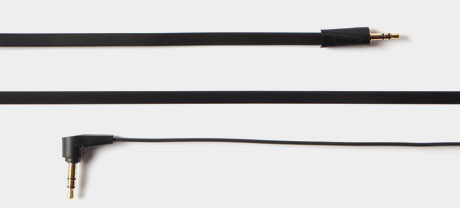 Enjoy your music with or without wires with the detachable, flat, tangle-free cables.
Note: When the audio stereo cable is connected to the headset, the headset will operate in the "passive mode" — the headset's call functions, music playback and volume controls will be disabled.
NOISE-FREE MUSIC AND CALLS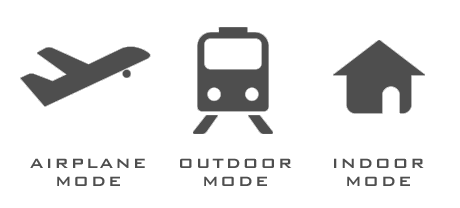 The headset's advanced Active Noise Cancellation (ANC) feature employs the use of four dedicated microphones and noise reduction controllers to eliminate the ambient noise by up to 90%. You can enjoy the flexibility of choosing one of three optimized levels of noise reduction with the Tri-Mode ANC selector: for airplane, indoor or outdoor use.
The built-in microphone with ClearSpeech™ Engine actively suppresses environmental noise and digitally enhances voice clarity so that your conversations are loud and clear.
Moreover, it is HD Voice-ready, which means it is capable of transmitting a broader spectrum of the human voice, making conversations more natural and life-like. To take full advantage of HD Voice, both parties must converse on HD Voice-capable smartphones, and be connected to mobile networks supporting HD Voice. For more information on supported HD Voice services and smartphones, refer to your local service provider.
SHARING MADE EASY

Aurvana Platinum features Creative ShareMe™, which allows you to share your music wirelessly with your buddy or loved one using another Creative ShareMe-enabled wireless headset such as the Aurvana Gold and Hitz WP380.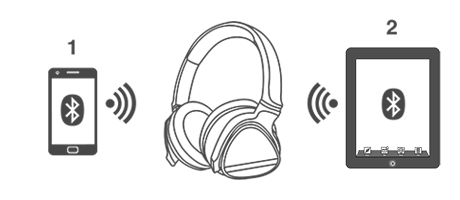 Creative Multipoint allows you to pair two separate devices to the headset at the same time. This means that you can easily switch your music source between these two Bluetooth stereo devices.
GO PLACES WITH YOUR HEADSET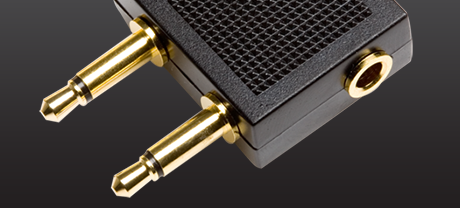 To make travelling a breeze, we have included an airplane adapter as well as a travel pouch for portable convenience.

A CLOSER LOOK AT YOUR PRODUCT
Wearing Style: 

Over-the-Ear




Main Features: 

Volume Control, aptX, Near Field Communication (NFC)




Driver Size: 

50mm (1.97 inches) Neodymium magnet




Frequency Response: 

10Hz ~ 25kHz




Cable Length: 

1.2m / 3.9ft



1 pair of Creative Aurvana Platinum headset




1 USB charging cable (1m)




1 detachable flat audio cable, 2.5mm-to-3.5mm gold-plated stereo plug (1.2m)




1 airplane adapter




1 durable travel pouch